Modern Workplace Print Management
Now there's a smarter way to handle print, using cloud-based print infrastructure services for secure printing and intelligent print management.
Start a free trial
Improve Productivity and Reduce Costs
With extensive features from Printix, you will be off to a secure start on your cloud journey. As a SaaS cloud platform, Printix provides unparalleled productivity and savings, automating the delivery and management of office, remote and BYOD printing for every user.
Printix was built to work for and grow with you. As a cloud-based print management service Printix enables IT administrators to deploy, monitor and maintain printers with greater ease, efficiency and insight.
With our features, you will get a cloud based secure and mobile printing solution that allows users to print from any device to any printer with ease.
Printix supports Windows, Mac, and Chrome OS as well as Android and iOS phones and tablets. You can also print from Linux computers via a Chrome browser.
Our features also include Single Sign-On with Microsoft Azure AD and Google Workspace enabling users to be automatically signed-in.
Now users can print across branch or from home to office and release documents using their credentials at the printer from any device.
See how to enable Azure authentication
Our
Azure AD
and
Google Workspace
integrations allow further access and control features to deploy, control and manage your print environment in concert with Printix. Groups can be used to control access to printers and deploy printers based on users' group membership.
See how to enable Azure AD Groups
With the features of our powerful cloud technology, Printix orchestrates and manages your local print environment, saving you hassle, time and money.
Our solution is scalable by design and can handle any number of users and printers.
Printix saves IT the cost and hassle associated with connecting users to printing resources, regardless of location, business size, printer make or model.
Deploys client software (silent)
Automatic software updates
Monitors printers and user print behavior
Provides actionable insights and reports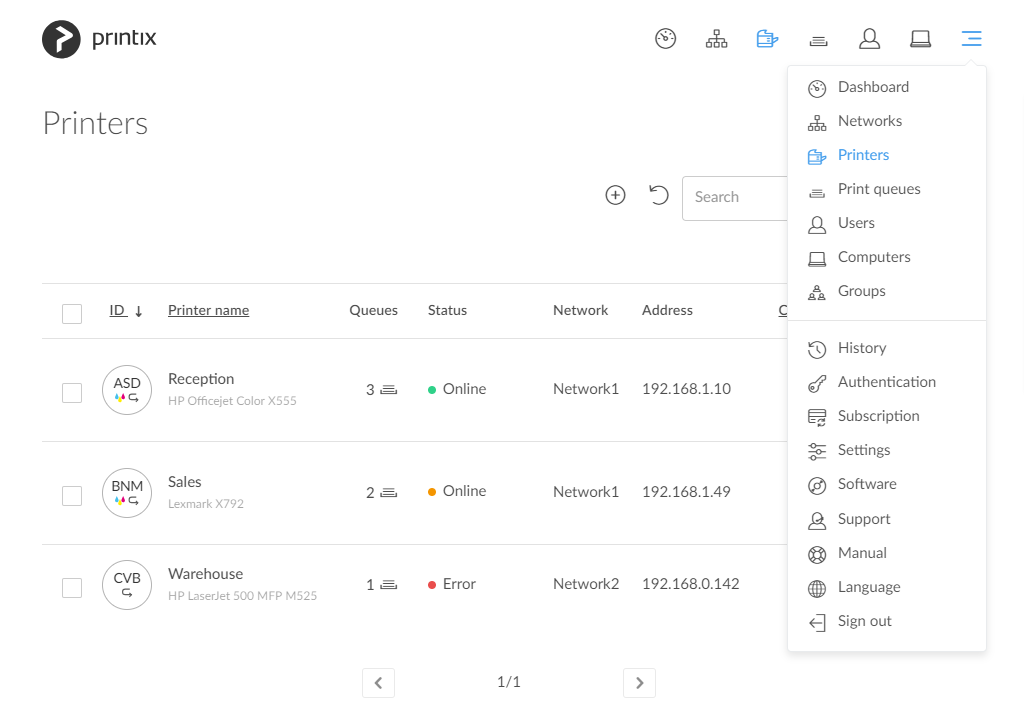 Cloud Print Management features from Printix
If your organization is building a cloud strategy and looking to transition your print infrastructure to a cloud service, Printix is the solution.
The features you get when using Printix will help you on your way to improve productivity and reduce costs in provisioning secure convenience printing, centralized management for all user groups across all locations and improved document security.
Want to try out all the Printix features for yourself?